Schooling 'not robust enough' says EU commissioner Laszlo Andor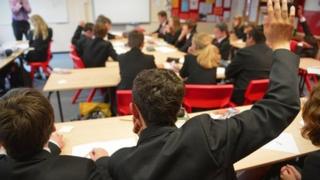 The UK's "schooling and training performance" probably is not robust enough for "a 21st century competitive economy", according to the EU Commissioner for employment.
Laszlo Andor visited projects in south Wales after reports raised concerns about education and skills.
He told the BBC's Wales at Work programme the skills shortage among the workforce was a UK-wide problem.
The Welsh government said it knew the importance of literacy and numeracy.
Since 2000, £4bn of EU structural funds has been given to west Wales and the Valleys.
A further £2bn will be available from this year targeted at the same areas to help support growth and increase jobs.
The commissioner praised how the money had been spent on training and the development of the workforce during a visit to projects in south Wales that had benefited from European funds.
A recent report by the UK Commission for Employment and Skills found that 20% of vacancies in Wales are hard to fill because employers can not find the applicants with the skills they need.
It also discovered that as many as 40% of employers taking on school leavers at 16 described the recruits as poorly prepared for work.
When questioned about this, the EU Commissioner for employment, social affairs and inclusion said: "Britain in general probably is lacking the sufficiently robust schooling and training performance which would be necessary for a 21st Century competitive economy and that's partly up to modernising the institutions."
"[It's about] how the employment and training system, life-long learning for example, how it contributes to keeping the workforce competitive. But it's also about reaching out to those furthest away from the labour market."
Wales fell behind the rest of the UK significantly in reading, maths and science for the third time, according to the PISA international study of schools in December.
The tests in science, maths, and reading were taken by 500,000 15-year-olds in 68 countries.
In Wales, there were lower results on average in the three subjects than in England, Northern Ireland and Scotland.
Scotland was ahead in maths and reading, while England was ahead in science.
Education experts warned at the time that failure to improve on these results would make Wales an unattractive prospect for investment by international companies.
"We've been honest and up-front about the challenges facing our education system," said the deputy minister for skills and technology, Ken Skates.
"We know that important skills like literacy and numeracy will ultimately decide the future competitiveness of our economy."
He added that literacy and numeracy are key priorities in the Welsh government's efforts to improve standards.
"We have also introduced a new 10-year plan to drive up the skills not only of people who are in the workplace but people who are unemployed and young people who will soon be entering the labour market.
'No restrictions'
"At the same time, our new Youth Engagement and Progression plan will reach out to young people who are furthest away from the labour market by supporting them as they move through school, further education or training, and into employment."
Commissioner Andor also told Wales at Work that EU migration benefited the Welsh economy and there would be no restrictions on the free movement of people despite calls from some politicians for immigration curbs within Europe.
Hear the full interview on Wales at Work, BBC Radio Wales, at 18:30 GMT on Thursday, 13 February