Bridgend council agrees 4.98% council tax rise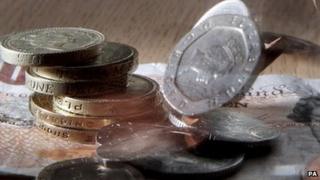 Bridgend council has agreed a council tax rise just short of 5% in its budget for the next financial year.
The authority says it needs to find savings of £36m over the next four years.
On Wednesday evening, councillors voted to support an increase for the next year of 4.98%.
It means those living in a Band D home will see their council tax bill rise to £1,192 a year - an increase of just over a pound a week.
Councils across Wales say they are having to make cuts partly due to an average 3.5% drop in cash funding from the Welsh government.
Bridgend's council leader Mel Nott said the £255m budget was the "most challenging" the council had ever had to set.
He said it was "hugely significant" that more than half of the £13m savings in next year's budget were from internal efficiencies.
Pay freezes
Staff pay across the council is frozen for the coming financial year, except for a 1% rise for some of the lowest paid.
Councillors are also being asked to give up any rise in their allowances.
Bridgend's funding from the Welsh government is being reduced by around 2.8% next year.
"Budgeting is about making choices that are often difficult," said the council leader.
"We have identified areas where we think that some services can be delivered more effectively and are looking at these - for example, by refocusing our Youth Services provision
"In other areas it has been a case of being completely realistic about the situation and accepting that we cannot subsidise everything."
Bridgend is the latest Welsh council to set council tax rises above inflation, with Carmarthenshire council agreeing a 4.77% rise earlier on Wednesday, while Swansea has backed a 5% increase.