Winter wettest ever for Wales, says Met Office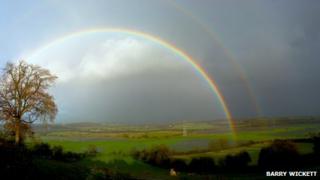 This winter has proved to be the wettest for Wales since records began, according to Met Office figures.
Weather watchers say more than 690mm - over 2ft - of rain has fallen in the last three months.
Wales has see more rain than south west England where extensive and prolonged flooding has devastated communities.
With a week still to go in the winter of of 2013/14, forecasters say more rain, and even hail and snow, can be expected over the next 24 hours.
The incessant storms and rainfall over the past two months have made this the UK's wettest winter since records began in 1910.
According to provisional figures from the Met Office, the UK received 486.8mm of rain between 1 December, 2013 and 19 February, 2014.
The amount of rainfall recorded in Wales was also a new record for the winter.
The figure for the amount of rain - 691.8mm - falling in the same period beat the previous record set in 1995.
The long term winter average rainfall for Wales is 434mm.
BBC Wales meteorologist Derek Brockway said: "I have been interested in the weather since I was eight and a forecaster since 1995 and I have never known such a wet winter.
'Jet stream'
"The run of storms has been exceptional in its duration so I am not surprised it has turned out to be the wettest winter since in Wales since records began in 1910.
"The severe weather in the UK coincided with exceptionally cold weather in Canada and the USA.
"These extreme weather events on both sides of the Atlantic were linked to a persistent pattern of perturbations to the jet stream, over the Pacific Ocean and North America."
Mr Brockway added: "The major changes in the Pacific jet stream were driven by a persistent pattern of enhanced rainfall over Indonesia and the tropical west Pacific associated with higher than normal ocean temperatures in that region.
"The North Atlantic jet stream, a ribbon of strong winds about 30,000 feet (9,000m) above the ground, has also been unusually strong; this can be linked to exceptional wind patterns in the stratosphere with a very intense polar vortex."