More councils in Wales voting on budget cuts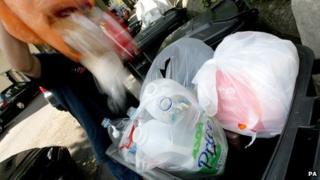 Three more Welsh councils have met to set their budgets with cuts in services and increases in council tax expected.
Cardiff taxpayers are facing a 3.97% increase in council tax as part of measures to cope with a £50m cut in Welsh government funding next year.
On Anglesey a 4.5% rise has been approved and in Monmouthshire councillors are recommending a 3.95% council tax rise.
The Welsh government said it was helping councils to make savings.
Services are facing severe cutbacks in many parts of Wales with increases in council tax being used to help relieve some of the pressure.
In Cardiff, residents face a 3.97% council tax increase while some council employees face a cut of one hour in the working week.
But play centres, youth centres and bowling clubs are to get a reprieve from the closures that had been suggested.
Trade unions, the Youth Council and older people's forums were involved in a public consultation process in which more than 2,000 people took part.
In Monmouthshire, the full council is to vote on the recommendations by the council cabinet this month of a rise in council tax of 3.95% despite a £9m cut in central funding.
The cabinet said this would protect front line services, although some would be subject to charges for the first time.
'Unprecedented period'
Phil Murphy, the council's cabinet member for finance, said: "We all know that Britain's public finances are in their worst state since the end of World War Two.
"But while others are spending time arguing about why this is the case and whose fault it is, we have chosen to spend our time responding to the challenge with purpose and in line with our stated priorities."
Schools, vulnerable people, youth services and libraries are among the areas which are being safeguarded and new secondary schools are planned for Caldicot and Monmouth.
On Anglesey, residents are facing a 4.5% rise in their council tax bills, meaning tax for a Band D home will go up to just over £981 a year.
The council has approved its budget, which also includes £7m of cuts.
Previously, council leader Ieuan Williams has said: "We now face an unprecedented period of cuts, like those which have already been experienced by English councils.
"These cuts will remain with us for a number of years to come and will impact on the way we deliver services, as well as residents, communities and council staff."
The executive recommended that the council accepted 45 applications for voluntary redundancies as part of its proposals.
But there has been controversy over plans to lower the school starting age, which some residents say will threaten the survival of Mudiad Meithrin Welsh-language nursery classes.
A Welsh government spokesperson said: "In these challenging financial times, councils need to be taking determined action to ensure services are maintained and improved while also giving people value for money from their council tax.
"We are already supporting councils to make savings, for example the National Procurement Service which went live in November and is expected to generate savings of up to £25m each year.
"Funding is also available through the Invest to Save and the Regional Collaboration Funds, which help public services to work with each other to transform services by meeting upfront costs which could otherwise be a barrier."