Lord Nelson letter withdrawn from auction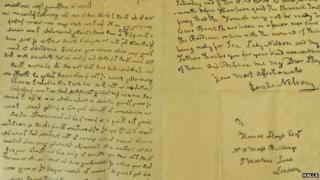 A rare letter from Admiral Lord Nelson to a descendant of the famous Lloyds banking family has been withdrawn from auction by its owners.
The letter was written in an apparently slightly shaky left hand script shortly after Nelson lost his right arm in the Battle of Santa Cruz de Tenerife.
It dates back to 1798 and, as letters written by Nelson are so rare, had been valued at £4,000.
The letter was due to be auctioned in Shrewsbury.
A spokesman for Halls auctioneers said the owners had decided to withdraw the letter which was part of a consignment from descendants of the famous Lloyd family of Dolobran, Pontrobert, near Welshpool.
He added: "The family have decided to retain the letter although they might offer it for auction again later in the year."
Written in black ink on tracing paper, it was sent by Lord Nelson to Thomas Lloyd - a descendant of the Lloyd family from Welshpool.
They were Quakers, iron merchants and founder partners of Taylors and Lloyds bank, now part of the high street Lloyds Banking Group.
Last year a letter written by Lord Nelson sold at auction for £54,500. It had been valued at £11,000.