Northern Lights or Aurora Borealis seen in Wales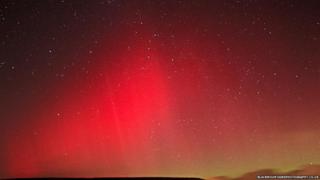 The Northern Lights - or Aurora Borealis - have been giving rare and spectacular displays in the night sky over parts of Wales.
The brightly coloured lights have been visible from south Wales to Denbighshire, Flintshire and Anglesey.
The display is caused by electrically charged particles from the Sun entering the Earth's atmosphere and can usually only be seen much further north.
But there have been sightings across much of the UK on Thursday night.
John Rowlands, a fellow of the Royal Astronomical Society, took spectacular pictures of the lights over Cemaes Bay on Anglesey.
He said it was one of the brightest and most active displays for 20 years.
Elsewhere in north Wales, Ross Davies went to the promenade in Prestatyn, Denbighshire, to get a good view and took pictures at Talacre, Flintshire.
He said: "I called in at Prestatyn because I thought it would be better to see them there. There was me and a lone fisherman.
"He was over the moon because he hadn't even noticed the Northern Lights and I managed to point them out to him.
"I said 'come and look at this' and he said 'that's amazing'."
Mr Davies, of Rhewl-Mostyn, said the lights were like a "green bow of light over the horizon".
"I feel very lucky. I thought you would have had to have gone to Iceland to see them but to have seen that in Wales is amazing," he added.
Mark Thompson, presenter of the BBC's Stargazing Live, said he had not been expecting a display as spectacular as it was.
He said the display happens when solar wind, or electronically charged particles, were ejected from the Sun.
"They take two or three days to get here and when they do get here they cause the gas atoms in the sky to glow. It is as simple as that.
"Three or four days ago the Sun will have thrown a lot of this stuff out in an event called a Coronal Mass Ejection, and they would have been travelling towards the Earth since. It all depends how active the Sun has been."
Mr Thompson said the particles were usually pulled towards the North Pole but if there were enough of them "they will travel further down towards the equator and cause the lights to go further south".