Stopped benefits claims 'triple in 10 years', researchers claim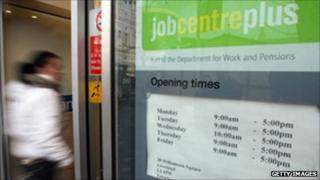 The number of people in Wales whose Jobseeker's Allowance (JSA) claim has been stopped has more than tripled over the past 10 years, it is claimed.
A Glasgow University academic claims "secret and third-rate" assessments by junior officials are arbitrarily hitting more than 40,000 people a year.
Meanwhile a BBC poll suggests 45% of Welsh voters want the UK government to be tougher on benefit claimants.
The UK government says it wants to end the "something-for-nothing" culture.
In the BBC Radio Wales programme Eye on Wales, critics argue that JSA claimants are all too often being sanctioned because of shortcomings in the system.
They say that the loss of this income is one reason why more people are turning to food banks for help.
'Going hungry'
Dr David Webster, from Glasgow University's Urban Studies unit, said his research showed that in the 12 months leading up to September 2004 there were 12,000 sanctions on JSA claimants in Wales.
Figures from the Department of Work and Pensions (DWP) show that the numbers increased to 40,090 in the 12 months leading up to June 2013.
Dr Webster said: "People under sanction, people without support, they are going hungry.
"This is a system which is operated by junior officials. It's done in secret, there's no legal representation, it's done on a basis of lack of documentation.
"Everything about it is third rate when you compare it with the proper legal system."
He tells the programme that sanctions are now being used "arbitrarily" and are not backed up with proper information and communication.
Homeless people, people with learning difficulties, and people with mental health problems are particularly at risk, he said.
In response to previous inquiries, the DWP has said: "The rules regarding someone's entitlement to Jobseeker's Allowance - and what could happen to their benefits if they don't stick to those rules - are made very clear at the start of their claim.
"We will provide jobseekers with the help and support they need to find a job, but it is only fair that in return they live up to their part of the contract.
"Sanctions are used as a last resort and anyone who disagrees with a decision can appeal."
'Lot of endorsement'
Meanwhile a BBC Wales opinion poll suggests that almost half of Welsh voters believe that the UK government is not being tough enough towards people on benefits and more should be done to force them into work.
The annual St David's Day poll, carried out by ICM, found that 45% of those questioned thought that the Westminster coalition government was not being tough enough towards people on benefits.
It found 27% said the coalition government was being too tough towards people on benefits and 22% said the current policy towards people on benefits was about right.
Prof Roger Scully, from the Wales Governance Centre at Cardiff University said it showed "quite a lot of endorsement" from Labour and Plaid Cymru supporters as well as Conservative voters.
He said: "This is not just about Conservatives supporting current government policy or Liberal Democrats supporting current government policy. There's actually pretty high levels of support across the board."
There will be more about the poll on the Sunday Politics Wales on BBC One Wales at 11:00 GMT on Sunday 2 March.
Eye on Wales is broadcast on BBC Radio Wales at 13:30 GMT Sunday 2 March.