Poverty report recommends art events in empty Welsh shops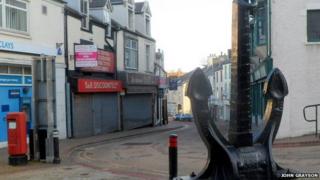 Empty shops and other disused spaces should be used by arts organisations to help people in poverty access cultural events, a report has said.
In her report for the Welsh government, Baroness Andrews said action was needed on issues like transport costs which prevented people travelling to cultural events.
She also said theatre groups should form closer links with charities and anti-poverty organisations.
An action plan is due to be published.
The report, commissioned by the Welsh government, examines how cultural and heritage organisations can work closer together in order to help tackle poverty.
Culture Minister John Griffiths said: "Tackling poverty is one of the Welsh government's fundamental priorities and this report underlines the difference that the arts, culture and heritage can make to people's lives.
Practical recommendations
"Inspiring children with a love of history can motivate them to read, and to become more successful learners.
"Taking part in local arts, history and cultural projects on a voluntary basis can help people gain confidence and new skills.
Referring to the study by Baroness Andrews, he said: "Kay's report highlights a number of excellent case studies but also highlights areas where there is scope to do more, and more effectively.
"It also makes practical recommendations on how the cultural and heritage sector can embed its work more in Communities First areas in order to boost attainment and skills."
The report builds on an independent report for the Welsh government into Arts in Education in the Schools of Wales, led by Professor Dai Smith, which reported in autumn 2013.
The Welsh government plans to publish an action plan in the summer.