Sport Relief seats challenge: Robbie Savage breaks record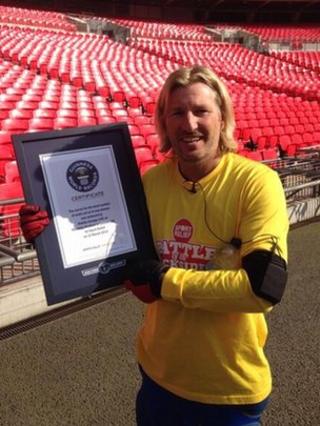 Football pundit Robbie Savage has broken the world record for sitting on the most seats in a minute in his Sport Relief challenge against fellow ex-pro Alan Shearer at Wembley.
The Wrexham-born star tweeted: "I'm a World Record holder! 86 seats in one minute", just one more than his rival.
Savage and Shearer are racing to be first to sit on half of the stadium's 90,000 seats in aid of the charity.
The winner of the five-day "Battle of the Backsides" will be named on Friday.
The two former international footballers started day four of the challenge neck and neck at just under 30,000 seats sat on each.
The money raised will be used by Sport Relief to help vulnerable people in the UK and abroad.