North Wales forest storm damage costs £1m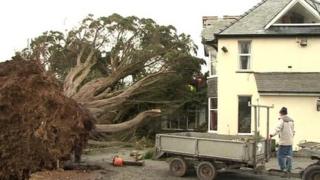 The worst storms in 30 years caused £1m in damage to commercial forests and woods managed by Natural Resources Wales (NRW).
NRW says 20,000 trees fell in Clocaenog Forest, near Ruthin, Denbighshire.
At Coed Bryn Mawr, near Maentwrog in Gwynedd, 450 mature oaks were lost.
Blocked roads were a problem near Coed y Brenin, Dolgellau, where 4,000 cubic metres of trees - almost enough to fill two Olympic-sized swimming pools - still needs to be removed.
Tens of thousands of people lost power around Wales in February when the storms struck with gusts of 108 mph recorded at Aberdaron on the Gwynedd coast
Natural Resources Wales (NRW) says despite a "mammoth clean-up effort" in the last few weeks many routes and path ways still have be cleared before the Easter holidays, affecting some mountain bike routes.
Its £1m estimate does not include privately-owned forests which also suffered damage during the storms.
Work to clear 1,000 cubic metres of timber has re-opened a road near Ganllwyd, Dolgellau, providing access to footpaths.
Clocaenog Forest in north east Wales " suffered significant damage" with calculation that around 20,000 trees were floored by the winds, blocking eight sections of road and bringing down power and telephone lines.
The total cost of repairs for north and mid Wales is expected to be in the region of £440,000, with work continuing throughout the year.
South Wales was not as badly hit, but around the coast more than 60 sections of the Wales Coast Path were affected, though they are passable with care, said NRW.
Kim Burnham from NRW said the "terrible damage" will take time to repair.
"In the long term the recovery of storm-damaged woodlands will result in more diverse, healthier trees making them a better place for people and wildlife," she added.