Joanne Mjadzelics denies indecent images charges in Ian Watkins inquiry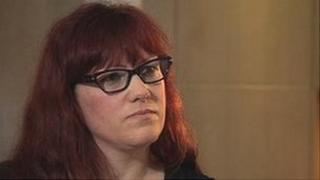 A woman has denied charges involving indecent images of children following an investigation into Lostprophets singer Ian Watkins.
Joanne Mjadzelics, 38, from Doncaster, pleaded not guilty to seven offences relating to indecent images of children at Cardiff Magistrates' Court.
The case was committed to Cardiff Crown Court on 7 April.
Ms Mjadzelics, who appeared via video link, was released on bail.
Crown prosecutor Angela Ricciardi said the charges came to light as part of Operation Globe, an investigation into Ian Watkins.
She told the court that as some of the images were so serious the case should be committed to the crown court for trial.