Ministers in Wales wrong on badger cull refusal, says new NFU president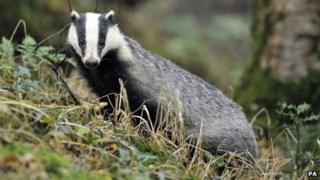 Ministers in Wales have "got it wrong" by refusing to cull badgers to tackle TB in cattle, says a farmers' leader.
New National Farmers' Union president Meurig Raymond says vaccinating badgers left farmers fighting the "disease with one hand tied behind their backs".
He told Farmers' Weekly UK ministers have a better handle on the situation.
The NFU was "completely wrong" and did not understand what was happening in Wales, compared to England, the Welsh government said.
"Welsh policy is leading the way in Bovine TB eradication in the British Isles, with our comprehensive and evidence based approach leading to a drop of nearly a quarter in new cases in the last year," said a spokesperson.
"We, of course, recognise the devastating effect bovine TB can have on farmers and are committed to working towards a disease free Wales."
Natural Resources Minister Alun Davies has previously said a "science-led" approach to eradicating bovine TB was working better in Wales than in England.
Some believe badger culling is needed to control TB in cattle, which can catch the disease from badgers, but opponents say it will not be an effective solution and is inhumane.
'Culling hugely emotive'
Mr Raymond who farms near Haverfordwest in Pembrokeshire was elected as NFU president last month. He said: "I do despair that in Wales the policymakers have not understood what a significant impact bovine TB is having on huge numbers of farmers.
"Culling is hugely emotive, but you only need to look at the result from culling in southern Ireland, where the incidence of bovine TB was reduced by 50% in four years.
"That proves to me that the politicians in Wales have got it wrong.
"Farmers are trying to control the disease with one hand tied behind their backs.
But while Irish Government data did show a decline in the number of cattle infected with TB, there was no conclusive evidence to show that the badger cull had been categorically responsible for any of this
In the Senedd last week, Natural Resources Minister Alun Davies invited UK Environment Secretary Mr Paterson to Wales to learn from its work in tackling the problem.
Mr Davies said the number of cattle slaughtered in Wales in the last year was down 33% and that the equivalent statistic for the rest of Great Britain was 14%.
In terms of the number of herds being affected by bovine TB, the minister said there have been reductions of 23% while the equivalent number in England was 6% as part of its on-going Strategic Framework for Bovine TB Eradication.
However, Welsh Conservatives' rural affairs spokeswoman Antoinette Sandbach disputed whether the figures could be attributed to the vaccination programme.