Inequality gap between Wales and London 'grossly unbalanced'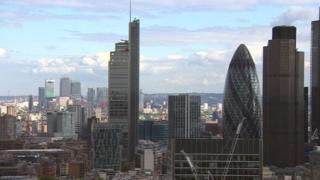 The difference between people on high wages and those on low ones has soared in the last 13 years, according to the Wales Trades Union Congress (TUC).
Its research looked at the gap between the top 10% of earners in London and the bottom 10% of earners in Wales from 2000 which it says rose by 9.8%.
The gap was described by the TUC as an indictment of the "grossly unbalanced state of the UK economy".
It is greater than the overall UK average of 5% over the same period.
But official figures show Wales has the lowest ratio of inequality in the UK.
Those figures from the Office of National Statistics (ONS) in 2012 also showed the wage gap in Wales has narrowed since 1998 when the highest paid employees earned more than nine times the rate of the lowest earners.
The TUC believes the narrowing is more down to top earners not doing as well as in other parts of the UK, rather than those at the bottom getting a better deal.
"This pay gap is bad news for our economy and bad news for living standards," said Wales TUC general secretary Martin Mansfield.
"The dominance of London and the south east, and the finance sector in particular, has undermined growth, jobs and wages in Wales and many other parts of the UK.
"In fact, by the measure of GVA output, the UK stands out as the most unequal nation in Europe.
"Unless this trend stops now and more high-skilled jobs with decent pay are created, this worrying pattern is likely to become even more entrenched."
Mr Mansfield, speaking at the start of the TUC's Fair Pay Fortnight said people at all levels should benefit from the economic recovery.
He added: "The TUC wants to see a greater commitment to pay the living wage from both government and employers, a crackdown on excessive executive pay and modern wages councils which could set higher minimum wages where employers can afford to pay more.
"We're asking workers to back our call to MPs to get all political parties to put decent pay at the top of their agendas in the run up to the election.