Benefits of Welsh government £90m civil service jobs move 'uncertain'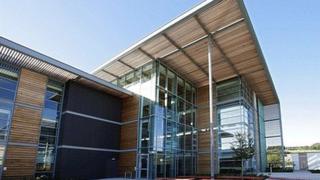 It is not clear whether a £90m project to move 550 civil service jobs out of Cardiff has been good value for money, say auditors
About £86m of that was spent on building government offices in Merthyr, Aberystwyth and Llandudno Junction.
The Wales Audit Office said objectives were met but that the overall value for money was "uncertain".
The Welsh government said it was pleased the report found it had delivered on its location strategy.
The Wales Audit Office (WAO) report said alternatives to building new offices were only given "limited consideration".
A relocation strategy was published in 2002, with the aim of moving at least 400 staff out of Cardiff.
It was completed in December 2011 at a total cost of £91.5m and with 553 posts moved.
Fares subsidised
Staff were offered financial help to move if their posts were relocated.
Relocation packages for staff moving to the Merthyr Tydfil office cost £2.9m alone - £2.1m of which was for excess travel fares.
Because "there was so much resistance from staff due to move from their Cardiff offices to Merthyr Tydfil", excess fares were subsidised for five years instead of the standard three.
Eligible employees could get a "disruption payment" of £2,500.
Staff could also get a loan through a salary advance, repayable over six years, to buy a car or motorbike.
Changes to posts and the number of staff expected to move presented particular difficulties in Aberystwyth and Llandudno, the report said.
Occupancy at both sites has increased and by December last year Aberystwyth was 70% full and Llandudno Junction 88% full.
Abolition of quangos
Fewer employees than planned have relocated, according to the WAO. By April 2012, 53% of Welsh government posts were based outside Cardiff. The target was 60%.
The WAO concluded that "without a robust estimate of the total cost of the programme at the outset, it is not possible to determine the extent to which the Welsh government's expenditure of £91.5m represented good value for money".
The strategy coincided with the abolition of quangos like the Welsh Development Agency, which increased the number of Welsh government staff by 1,400 and significantly increased its estate.
However, the WAO also said there were a "range of benefits" from the relocation strategy
It quoted a Bangor University estimate that the programme boosted the economy by £150m, although the figure does not include the negative impact to places where staff have left or offices have closed.
The size of the government's estate has shrunk to 41 properties. The plan is to reduce that to 13 core offices by April 2015.
The new offices are also more environmentally friendly and offer better working environments, the report added.
A Welsh government spokesman said: "We are pleased the auditor general has found that we have delivered the objectives of the location strategy - to decentralise services from Cardiff and bring them closer to the people of Wales.
"We will give the auditor general's report full consideration and respond in due course."