CBI Wales: Use new taxes to develop construction industry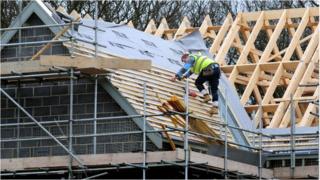 New tax-raising powers for Wales should be used to develop the construction industry and infrastructure, the business lobby group CBI Wales says.
The group has launched a report, Brickenomics, calling on the Welsh government to recast its relationship with the construction industry.
It says significant investment is needed for the "ageing infrastructure" in order to boost economic growth.
The Welsh government said the report mirrored themes in its own plans.
The report comes as Chancellor George Osborne called on the Welsh government to start work on improving the M4 in south Wales, calling it one of the worst bottlenecks in the UK which was damaging the economy.
Five steps
The report sets out five steps CBI Wales would like to see, including a "pro-growth land-use planning system", securing maximum private sector investment in projects, and using tax and borrowing powers to deliver infrastructure.
It noted 13,000 companies were involved in construction in Wales, employing over 130,000 people and generating £2.3bn per annum and over 10% of GDP.
Emma Watkins, director of CBI Wales, told BBC Wales: "The Welsh assembly is about to get new tax-raising powers and the CBI believes these should be used to facilitate development in the construction industry, drive forward our infrastructure and economy.
"If you think about those companies directly as developers and house builders and all of those down the supply chain, they generate around £2.3bn worth of spend and a lot of what they spend is sourced domestically.
"That's quite a large proportion of money going into the Welsh economy as well as driving it, so we need to recognise its value."
She said the sector was predicted to grow by 3.5% by 2018.
Finance Minister Jane Hutt said: "The CBI's call in the Brickenomics report for infrastructure investment to be prioritised as a catalyst for growth mirrors a key theme within the Welsh government's Wales Infrastructure Investment Plan.
"It also echoes the call I made to the UK government ahead of last week's budget to increase capital investment to ensure we can deliver the sustained economic growth that both Wales and the UK needs."