Cycling to work numbers in Cardiff up by 65%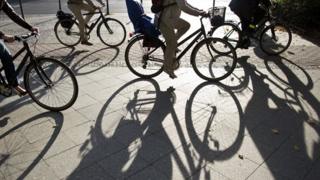 There has been a 65% rise in cyclists riding to work in Cardiff but some other areas of Wales have seen a drop in numbers.
Merthyr Tydfil tops a list of 10 local authority areas in Wales and England where cycling to work has reduced between 2001 and 2011.
But the number of people cycling to work in Wales is up from 16,389 in 2001 to 19,156 in 2011, a rise of 2,767.
The figures have been published by the Office for National Statistics (ONS).
Cycling to work rates were highest among male workers, those living in urban areas and people aged between 30 and 34.
In Cardiff, 5,791 people cycled to work in 2011 compared to 3,514 in 2001 but in Merthyr Tydfil the numbers have dropped from 111 to 80 over the same period.
It is followed by Rhondda Cynon Taf, Blaenau Gwent, Caerphilly and Carmarthenshire.
Jane Lorimer, national director of the transport charity Sustrans Cymru, said: "Cardiff is leading the way, not just in Wales but in the UK as a whole and is a resounding endorsement of the Welsh government's bold decision to pass the world-first Active Travel Act.
"Wales shouldn't be rock bottom of the league tables, and while the Act will make a difference, it will take concerted effort at all levels of government to get more of us cycling our daily commute.
"Cycling to work may not be realistic everywhere in Wales - in large parts of our nation the distance travelled to work is much higher than the UK average - but other regions have huge potential.
"Getting people cycling to work is good for the economy, leading to a more productive workforce and cutting congestion. These statistics are a timely reminder that there is a big job to do."
James MacColl, campaigns director for the Campaign for Better Transport, said people were travelling further to get to work, but it did not mean more cars and congestion.
"We need policies and investment in public transport, cycling and walking facilities to give people a choice in how they make these journeys, and support the growth in home working," he said.
A total of 741,000 working people cycled to work in Wales and England in 2011, an increase of 90,000 on 2001.
The number of people aged 16 to 74 living in London who cycled to work more than doubled between 2001 and 2011, from 77,000 to 155,000, and numbers cycling in Brighton, Bristol, Manchester, Newcastle and Sheffield all increased by over 80%.
Figures also show that people are also travelling further to get to work but commuter numbers are falling as more work from home.