Natural Resources Wales' independence called into question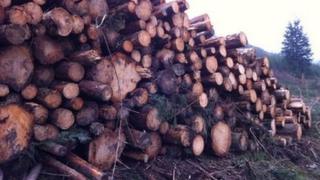 The independence of the body responsible for Wales' landscape, resources and wildlife is being called into question.
The BBC's Wales Report has seen internal emails at Natural Resources Wales (NRW) and spoken to a senior member of staff.
They suggest the Welsh government puts pressure on the organisation not to object to developments.
But the minister for natural resources and food has rejected the claims.
Alun Davies said NRW had achieved a great deal in its first year.
There were also claims NRW back-tracked on decisions made by its predecessor, the Countryside Council for Wales (CCW), on the Circuit of Wales, a plan for a motor racing track near Ebbw Vale, Blaenau Gwent.
CCW objected to the plans in March last year and recommended it be refused over environmental concerns.
The Wales Report said NRW recognised those issues and in July last year published a document outlining the environmental concerns.
But months later NRW altered its recommendation that the application be refused, saying all the concerns could be dealt with and that the plan could now proceed.
The programme was shown emails written by the late Morgan Parry, a former NRW board member and respected environmentalist.
They show frustration that staff were being asked to change their recommendations, despite no new evidence coming to light.
An email from Mr Parry said: "I don't know who wrote our submission or how high up the hierarchy it was escalated, but I know that staff are finding it difficult to do anything other than give the same answer as we would have done before...
"The only way our advice on issues such as Circuit of Wales is going to change is if we are directed by government to have regard for other factors over and above the environmental ones. And that, I believe, would be a very sad day."
But Mr Davies said NRW was an independent body and was succeeding.
"It's succeeding because it's listening to advice from its own specialists and then it's giving us advice on what we should be doing," he said.
"I provided a remit letter to NRW for the next year and that will outline the main areas I want them to focus on and areas I want them to lead on in the next 12 months.
"And that is about dealing with green growth, investing in sustainable management of our natural resources and to ensure that they are able to provide the advice we need in government."
In response to criticism over the Circuit of Wales, he added: "You might have one disgruntled employee.
"What I would say is look at the breadth of the work the NRW is doing day in, day out. Throughout its first year in existence it has delivered on its expectations and our expectations."
NRW is the largest body sponsored by the Welsh government. It was set up a year ago with a budget of £180m and is responsible for the country's natural resources, which are said to be worth £8bn a year to the Welsh economy.
The Wales Report is broadcast on Wednesdays evenings and is available on the BBC iPlayer.