Teen held with Lostprophets Ian Watkins in prison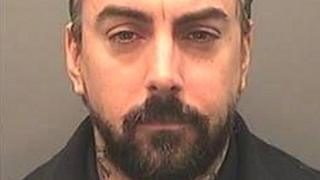 An 18-year-old in the local authority's "leaving care" system was held on the same adult wing as Lostprophets paedophile Ian Watkins.
Leon Meisl was transferred to the wing at Parc Prison, Bridgend, when he turned 18.
Meisl, in prison for burglary, spent two months in Parc last year.
Children in care make up 1% of the population but a third of male young offenders are or have been in care, a charity has said.
Meisl claimed he was also held alongside a man facing three murder charges.
He spent some time in the young offenders' institution at the prison, but was moved on his birthday to the wing where Watkins and Carl Mills were both on remand.
Triple murder
Watkins, 36, later admitted the attempted rape and sexual assault of a child under 13 but pleaded not guilty to rape.
He also admitted conspiring to rape a child, three counts of sexual assault involving children, seven involving taking, making or possessing indecent images of children and one of possessing an extreme pornographic image involving a sex act on an animal.
He was jailed for 29 years last December.
Mills, 29, was later found guilty of murdering his six-month-old daughter Kimberley, his girlfriend Kayleigh, 17, and her mother, Kim Buckley, 46, in a fire at their home in Cwmbran, Torfaen, last year.
He was sentenced to 35 years in prison.
Meisl claimed he spent time with them both while at Parc.
"I'd sit on the same table as both of them and I'd eat food with them," he said.
'Disgusted'
"I'm just disgusted that I was put on the same wing as them.
"The murderer [Carl Mills] used to say that when he got out of prison he was going to get his daughter's name tattooed on his arm and get a bottle of cider. That was the first thing he wanted to do.
"[Ian Watkins] told me he wanted to go and take meth."
Paul Tidball, former president of the Prison Governors Association and former governor of Cardiff Prison, told BBC Radio Wales an 18-year-old should not automatically be moved into an adult wing, he said it should be a "selective process".
He said: "It's a bit of a puzzle why he found himself in an adult wing in the first place."
Mr Tidball said prison service instructions clearly state someone of Meisl's age would only be moved into an adult wing if they present a criminal's "sophistication and behavioural sophistication".
A Prison Service spokesman said: "The government recognises that young people in custody are some of the most vulnerable young people in society and we take the safety of prisoners very seriously.
"Prisoners are placed in establishments most suited to managing their individual needs and level of risk. Those young adults that are placed in adult wings are closely monitored by prison staff.
'Unnecessary criminalisation'
"We are also taking steps to improve the help given to young offenders when they leave custody so that more are encouraged to go into education, training or employment and fewer go on to reoffend."
A Justice Committee report, published in March 2013, concluded the Youth Justice System was failing children in care and care leavers.
It also said: "There should be more effort to prevent the unnecessary criminalisation of these vulnerable young people."
Prison Reform Trust director Juliet Lyon agreed and said: "It's pretty obvious that care is often a stepping stone to custody.
"Around one per cent of all children in England and Wales are held in local authority care but if you look at the young offender population what you see is 30% of boys and 44% of girls have been in or are still in care.
"That's an extraordinary disproportion and we should pay far more attention to that group than we currently do."
G4S, which runs Parc Prison, has declined to comment.