Call for David Jones to resign over electrification row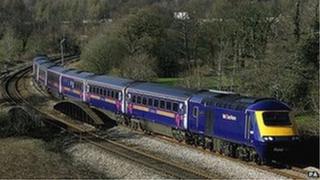 Calls have been made for Welsh Secretary David Jones to resign over his "failure to fight" for a major upgrade of the railways in south Wales.
The Welsh and UK governments are in dispute over who will fund the electrification of the London to Swansea line and the Valley lines.
Labour MP Geraint Davies told MPs Wales "desperately needed" the funding.
Conservatives accused Labour of orchestrating the row for "narrow party political" reasons.
Mr Davies, who represents Swansea West, made the resignation call during the second reading of the Wales Bill on Monday.
He told the House of Commons: "It was said by the prime minister that the UK government would pay for this, what is essentially UK infrastructure in terms of the electrification of the railways.
"And I think it's disgraceful, frankly, that you [David Jones] should be sitting there while we've got £52 billion spent on HS2, and you won't even fight for that extra bit of money for Wales.
"We desperately need it, you should resign," he added.
He said the "U-turn" on the rail line funding was just one example "of the stealthy stranglehold that the Tories want to put on Wales".
He also warned the row could leave the Valleys lines without electrification if the Welsh government decided it had other priorities.
The main line upgrade from London Paddington to Cardiff is scheduled for completion by 2017, with the extension to Swansea planned for 2018 at a cost of £850 million.
'Lazy'
The Conservatives said it was "appalling that Labour ministers are playing politics" with "the biggest single investment in Wales' transport infrastructure for decades".
The party's assembly Shadow Transport Minister Byron Davies said: "Labour orchestrated a spat with the UK government in the pursuit of its narrow party political interests, instead of co-operating on a record investment project to bring benefits to the south Wales economy."
He said documents showed Labour ministers were "well aware of their responsibilities towards the cost of valleys electrification, but have cynically tried to manipulate the situation for political motives".
"Conservatives in government are building a transport network fit for the future after 13 years of neglect under Labour when not a single inch of track in Wales was electrified," he said.
"Carwyn Jones and his lazy Labour ministers need to start acting like a government and should meet with the Department for Transport as soon as possible to clear up this misunderstanding on the part of Labour ministers in Wales."