Agoraphobic Tracy Johnson travelled world, court hears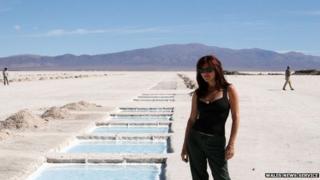 A globe-trotting benefits cheat who claimed she was too scared to leave her home was working as a tour guide in South America, a court heard.
Tracy Johnson said she suffered from agoraphobia with a fear of open spaces and had not left the UK for years.
But Merthyr Crown Court heard she lived a "champagne lifestyle".
It is alleged the 52-year-old from Frome, Somerset, who denies fraud, changed her address to her mother's home in Builth Wells to claim benefits.
Ms Johnson, who is representing herself, is accused of fraud, dishonestly making a false representation and dishonestly failing to notify a change in circumstances between January, 2008 and July, 2012. She denies 13 charges.
The court heard Ms Johnson picked up £50,000 in disability payments while running her own tour guide business in Argentina and even had bilingual business cards printed for her company called Northwest Nomad.
Ms Johnson, a published author, is also accused of globetrotting to other parts of the world while getting disability allowance.
Joanna James, prosecuting, said: "Tracy Johnson was living the life that honest, decent, hard working tax payers could only dream of.
"While workers were going out to do their daily grind she was shopping in New York or having a few days in Madrid."
The prosecution said in 2012 Ms Johnson decided to use taxpayers' money to have a four-month trip around India.
But when police searched her home luggage tags were still on her suitcases while receipts, flight confirmations and hotel reservations along with a diary of her travels in India were found.
Back in the UK, Ms Johnson had allegedly filled in benefits claim forms saying she needed physical and emotional support.
Jurors were told she claimed a friend cared for her on a daily basis, spending all her time in her bedroom where she felt "safe".
Miss James said: "She said she was unable to live on a day-to-day basis because she was agoraphobic, suffered depression, hallucinations, anxiety, blackouts and post traumatic stress disorder.
"She said she stumbled and fell repeatedly and could not walk more than five metres without help.
"She said she rarely came into contact with other people and was distressed and agitated when she talked of her illnesses.
"She claimed that she was so unwell that she was unable to live in her own home.
"But while submitting claim forms telling the authorities that she was unwell she was travelling the world on tax payers' money."
Ms Johnson was arrested after an anonymous tip-off about her alleged worldwide travels.
"It was absolute, blatant dishonesty," said Miss James.
Department for Work and Pensions fraud investigator Kim Osbourne told the jury Ms Johnson had changed her address to her mother's home in Builth Wells, Powys for the purpose of claiming benefits.
Mrs Osbourne said: "When asked for an interview she seemed to disappear and not cooperate with the departments."
The trial continues.