Scarlet fever: Highest number of cases in 20 years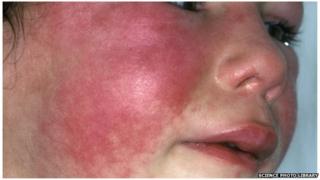 More cases of scarlet fever have been reported since the start of the year than occurred during the whole of 2013.
Public Health Wales (PHW) has received notification of 379 cases, compared to a total of 186 last year.
It is already the highest number of cases reported in Wales in 20 years.
The increase in scarlet fever, which tends to affect young children, has been seen across the UK, with England reaching its highest weekly level since records began in 1982.
In March, PHW said the rise could be linked to mild weather.
The number of cases seen already this year is higher than the total number reported in any year since 1994.
The infectious disease can cause a high temperature, red rash and sore throat, and is treatable with antibiotics.
Highly contagious
PHW said the higher numbers could be related to the recent mild winter, but it had no firm evidence for that.
Speaking after the number of cases hit 139 last month, Dr Rhianwen Stiff, of PHW, advised parents to be vigilant of the symptoms.
At the time, children aged two to seven were the worst affected, and the highest number of cases was in Swansea.
She said: "Scarlet fever is highly contagious. Although most cases of scarlet fever are mild and will clear up in a week or so, a course of antibiotics can speed your recovery and will lessen the chances of spreading the infection to other people."
Anyone who suspects they or their child has scarlet fever should contact their GP or NHS Direct Wales.