Last remaining Sunderland pilot dies aged 93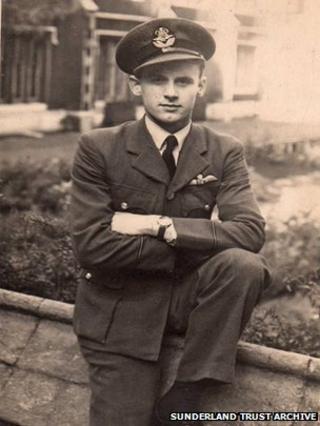 The last surviving pilot of Pembroke Dock's famous WW2 Sunderland flying boat has died aged 93.
In 2009 Wing Commander Derek Martin played a key role in the campaign to raise the remains of Sunderland T9044 from the Haven Waterway.
As a 19-year-old wartime pilot, he'd flown the coastal reconnaissance craft as part of the RAF's 210 Squadron.
Despite being badly injured in a 1941 crash he recovered to enjoy a long and successful career with the RAF.
He had received pioneering plastic surgery after the crash, making him a proud member of the 'Guinea Pig Club', made up of injured servicemen treated by renowned plastic surgeon Archibald McIndoe.
The techniques he pioneered at the East Grinstead Hospital helped form the basis for modern plastic surgery.
Wing Commander Martin had been part of the RAF's 210 Squadron based in Pembroke Dock, and in retirement he became patron of the Pembroke Dock Sunderland Trust. He backed their efforts to establish a permanent home for the remains of the salvaged Sunderland T9044, which it was rediscovered by divers almost 70 years after it sank in a gale.
He himself had delivered it to Pembrokeshire in 1940, but just two months later it slipped its mooring during a gale, and sunk when a hole was torn in its fuselage.
Its rediscovery was particularly important, as it's the only known example of a Mk1 Sunderland flying boat in the world.
Today many of its parts are on display at the Pembroke Dock Flying Boat Centre, officially opened by Wing Commander Martin in 2009.
On his last visit in 2011 he explained to The One Show's Dan Snow, the vital role Pembroke Dock and the Sunderlands had played in the defence of Britain's entire West Coast.