Wales' beach water quality boosted by dry summer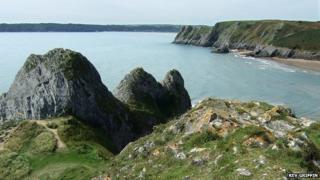 More beaches in Wales have been recommended for their excellent water quality with fewer failing minimum standards, the Good Beach Guide says.
The dry summer in 2013 was credited for tests showing 109 out of 152 leading Welsh beaches classed as excellent by the Marine Conservation Society, up 11.
Beaches which would not have met minimum EU bathing water standard in 2013 fell from five to four, it said.
The MCS hoped it would boost tourism after pollution due to wet summers.
The society said its Good Beach Guide was based on standards set by the European Bathing Water Directive but differed from the official Blue Flag scheme by including test results on more rural, isolated beaches not legally required to meet EU standards because of their small number of bathers.
All five beaches which the MCS said would not have reached minimum EU bathing water quality standard in 2012 have now passed with two - Criccieth in Gwynedd and Llandudno West Shore - now judged to be excellent.
But four beaches fell below that standard in 2013 having previously passed including one - Broughton Bay in Swansea - which had been recommended as excellent in 2012.
Daily forecasts
MCS Wales programme manager Gill Bell said the survey was good news after previous wet summers saw pollution problems due to overloaded sewers.
"It's great news that we are able to recommend so many beaches for excellent water quality and it shows just how good Welsh beaches can be," she said.
"The main challenge now is maintaining these standards, whatever the weather."
Ms Bell added it was impossible to judge whether the stormy winter weather would have any long term impact on beach quality this summer.