Fight for truth over father's death from surgery complications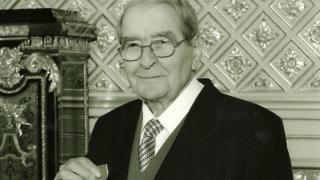 A man whose father died following cancer surgery has spoken of his fight to get the truth about the death.
Malcolm Green, 82, died after staff at Withybush hospital in Haverfordwest failed to tackle internal bleeding quickly enough after the operation.
His son John had to go through hospital records to prove a second operation took place later than first said.
An inquest ruled that Mr Green received "less than optimum" care but it did not amount to neglect.
Hywel Dda health board admitted failings in Mr Green's care.
Mr Green was taken in for surgery to remove a tumour from his bowel on 26 June 2012.
A coroner's hearing in Milford Haven was told his blood pressure began to drop overnight, and staff had identified internal bleeding by the morning.
He was prepared for emergency surgery at 10.00 BST but it did not take place until at least 13.00 BST, despite efforts by medical staff to contact surgeon Otumeluke Umughele to emphasise how ill Mr Green was, the inquest heard.
Mr Umughele rejected these claims and said he returned to surgery once blood products ordered for the operation had arrived.
However expert witness Professor Michael Keighley challenged Mr Umughele's decision, saying if a patient was bleeding a doctor needed to stop the bleeding and not wait for blood products.
Mr Green's condition deteriorated and he died three days later. Prof Keighley said he would probably have survived if an operation had been performed before 10.15 BST.
John Green said his father and the family had believed the procedure would only be a minor routine operation and he would be back out in a few days.
'Something was untoward'
A fit man, Mr Green, who ran a car dealership in Haverfordwest, was working up until the day he went into hospital.
After Mr Green's condition deteriorated, John Green and his mother were called to the hospital on the morning of the 27 June by staff who said Mr Green had taken a turn for the worse and would need another operation.
John Green took his mother home then he returned to the hospital at lunchtime and spoke to the surgeon.
He told BBC News: "I questioned him as to why we had been called to the hospital at 9.30am and told there was a need for urgent surgery, that we were talking close to one o'clock and he hadn't performed it.
"To my amazement he said he'd gone to a meeting.
"We've seen the statements from the anaesthetists who said that they were ready to operate at 10 o'clock in the morning."
John Green rang the coroner the morning his father died and said he had concerns about his father's death and was told the hospital would supply details to the coroner's office.
"When we received the post-mortem report it indicated there had been no problems with dad's surgery. It didn't have any mention of what had happened.
"For several weeks and months I kept writing to the coroner and telling him that something was untoward and to be fair to Mr Layton, he allowed me the time to come up with the necessary evidence."
Mr Green went to Withybush hospital and went through theatre records and found to his amazement that none of the information about the surgery was contained in his father's medical records.
'Appalling' experience
"Everything that the hospital supplied to the coroner, and that was subsequently supplied to an expert, showed that the operation took place at 10am," he explained.
"I know that I spoke to the surgeon at 1pm, so all that evidence had either been removed from the file or had deliberately not been included."
Mr Green described having to go through the records as "a horrible experience".
"I think it's appalling that we as a family should have to go and prove that a mistake has taken place. We've had to put the evidence to the coroner and the hospital."
Mr Green said he was most angry with Hywel Dda health board.
"They could have identified in the early stages that there was a problem and they could have made us aware as a family there was a problem. They've tried to cover it up.
"Now they've accepted that they are fully responsible for it, they don't want to settle."
Hywwel Dda University Dda University Health Board apologised to the family and acknowledged failings in Mr Green's care, saying it had carried out a full investigation.
"Actions have been taken to ensure that these failings do not happen again and these lessons will be shared widely across the university health board," said a spokesperson.
The board also confirmed that it remains in discussion with Mr Green's family with a view to reaching a settlement.