Jamie Lewis wins £450,000 payout after birth errors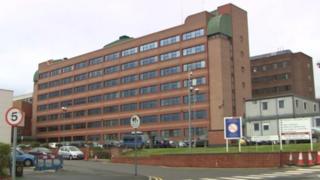 A man has been awarded £450,000 in compensation 23 years after errors made by doctors during his birth left him unable to use his left arm.
Jamie Lewis, of Blackwood, Caerphilly, was left with the permanent disability following a complicated delivery.
His solicitors said he won a legal case after proving a team at the Royal Gwent Hospital, Newport had used "excessive force" during his mother's labour.
Aneurin Bevan Health Board accepted the claim and apologised for the failing.
A spokesperson added: "Procedures have been reviewed and actions taken to improve care as a result of this case."
The case was brought against the Gwent Healthcare NHS Trust - which has since been absorbed into Aneurin Bevan - by Mr Lewis's mother Cheryl Lewis-Thomas.
It was successfully argued that Mr Lewis became stuck during birth and excessive force by doctors caused damage to the nerves in Mr Lewis's neck which resulted in paralysis in his left arm and hand.
Bullying
Mrs Lewis-Thomas said she decided to pursue the claim after seeing her son struggle through his childhood.
She said: "Jamie had a tough childhood growing up with no use in his arm.
"He was unable to play with other children, use his bicycle and the appearance of his arm also made him a target for bullying.
"I knew the way he was treated during the birth wasn't right and it wasn't any fault of his own."
Emma Jordan, from Fletchers Solicitors in Southport, Merseyside, said if the hospital had admitted the problem when it first occurred then the Mr Lewis' recovery would likely have been far better.
She added: "Unfortunately, it took over 20 years for Jamie and his mum to achieve justice for what happened.
"The compensation secured for Jamie takes into account the extent of the injuries he suffered and his future needs, and will allow him to enjoy an optimistic future with his wife and two children."