Wales house sales up by 21% in first three months of 2014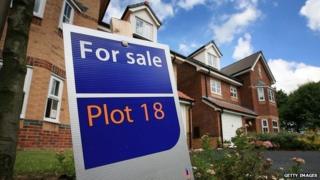 House sales in Wales have increased by 21% in the first three months of the year compared to the same period in 2013.
Figures released by HM Revenue and Customs show 10,720 houses in Wales were sold between January and March.
It follows the launch of the country's help to buy scheme in January.
The trend suggests growing confidence in the housing market but Cardiff estate agents, Moginie James, said it was only partly down to help to buy.
The UK government operates another help to buy scheme in both England and Wales.
The Welsh government's is available for new build homes up to £300,000 as long as borrowers have a 5% deposit. It will provide up to 20% of the value of the property as an interest free loan.
Moginie James director Nick James said the schemes had helped improve confidence in the market but the vast majority of his company's sales between January and March were not down to them.
He said: "We are seeing a lot more first time buyers and investors entering the market, and think this is largely down to low interest rates and a gradual return of confidence in the sales market."
'Depressed'
Estate agent and housing expert Henry Pryor said the increase in sales was down to a variety of reasons.
"The intervention of the Welsh and UK governments with their help to buy schemes, and a funding for lenders scheme, have improved the confidence of people involved in the housing market," said Mr Pryor.
"That means house builders, those renting, selling and buying have more confidence, while low interest rates have made homes more affordable.
"The market for large family homes is still depressed though. In north Wales, for example, these properties are trading at 50% below their pre-credit crunch prices."
The increase in house sales in Wales is slightly below the UK average, which saw a 24% rise.
The first months of the year are generally a slow period for sales.
However, the seasonally-adjusted data published by HMRC suggested that the first three months of the year was the busiest since early 2008.
The UK government's help to buy scheme is available for new build and existing homes up to the value of £600,000 with the UK government guaranteeing up to 15% of the loan.