Wales economy lacks right sites for industry, RICS says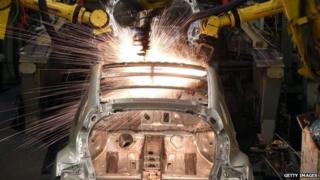 Industrial firms are keen to come and set up in Wales but are being put off by a lack of suitable sites, a chartered surveyor has claimed.
It comes as the Royal Institution of Chartered Surveyors (RICS) reports booming demand for commercial property.
Its Wales spokesman Richard Baddeley said the result was a shortage of new, modern units in areas such as the A55 corridor in north Wales.
The Welsh government said it was investing in sites across the region.
The organisation said demand was rising in all UK regions and was evidence that the economic recovery was not confined to London, expecting rents to rise by more than 5% in a year.
Mr Baddeley, commercial sector spokesman for RICS Wales, said there was strong interest in sites such as Gateway Park in Bangor and Parc Cybi at Holyhead, Anglesey.
But he said the Welsh government could do more to make the most of the potential for industrial growth.
"There is good demand for industrial and warehousing space along the A55 corridor and there is a shortage of supply," he said.
"Following the demise of the Welsh Development Agency there has been virtually no new-build industrial space within the region."
'Lack of utilities'
He welcomed the Welsh government's purchase of the former Hotpoint washing machine complex at Bodelwyddan, Denbighshire, for development but warned that incoming firms needed the right sort of facilities.
"From the smallest to the largest firms there are people who want to come to Wales but there isn't the range of space available," he said.
"We're mainly talking about small manufacturers or utility service companies who'd initially employ around 20 to 30 people.
"A lack of utilities can be a major issue - some of these older sites don't have sufficient power or water supplies."
Mr Baddeley also warned that grant aid might be needed in some cases to compete with neighbouring areas such as the north west of England which were offering European-funded financial incentives.
A Welsh government spokesperson said: "As RICS recognise we are investing in commercial property developments in north Wales, such as the former Hotpoint site in Bodelwyddan.
"We have also invested in infrastructure at Parc Cybi and Parc Bryn Cegin [at Bangor] to provide sites ready for development.
"Our Property Development Grant supports businesses to create new floor space and we are currently seeking companies to do this in Anglesey and Deeside Enterprise Zones."