D-Day: Hugh Iorys Hughes's Mulberry Harbour plans to be auctioned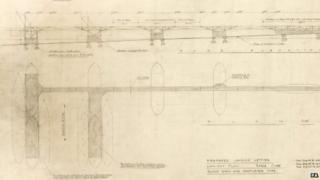 Historic pencil drawings of temporary mobile ports which played a crucial role in the World War Two D-Day landings are to be sold at auction.
The secret wartime plans for the Mulberry harbour were designed and drawn by Bangor-born engineer Hugh Iorys Hughes in 1942.
The original drawings of the harbour are expected to fetch between £40,000 and £60,000 at auction in New York.
They will be sold on 5 June, a day before the 70th anniversary of D-Day.
The Mulberrys were a response to the need of the Allies to find a port large enough to accommodate the huge amount of supplies required to support an invasion of mainland Europe.
Sections of the harbour still survive and can be seen in Arromanches in Normandy.
The ambitious plans became a reality after Mr Hughes built a Mulberry prototype in Conwy after proposing the idea of floating harbours to the War Office.
A spokesman for auction house Bonhams, which is selling the drawings, said: "Aware that capturing an existing port in France was next to impossible, Hughes first proposed the idea of floating harbours to the War Office during 1941.
"His brother, a Royal Navy commander, brought the idea to the attention of senior staff and by that route to Winston Churchill.
"The Prime Minister was favourably inclined to the idea having proposed something similar as a member of the war cabinet during the First World War.
"In May 1942, fully two years before the D-Day landings, he issued a directive to Admiral Mountbatten: 'Piers for use on beaches.
"'They must float up and down with the tide. The anchor problem must be mastered. Let me have the best solution worked out. Don't argue the matter. The difficulties will argue for themselves.'"
Mr Hughes was chosen to head the project and the plans going under the hammer, drawn up between June and August 1942, are the basis of what eventually became the Mulberry harbour.
The Bonhams spokesman added: "The Mulberry harbours made possible the initial landings at Normandy and the continued supply of troops during the Allied invasion that turned the tide of the war.
"The enemy's perspective on their value is especially revealing.
"At the Nuremberg Trials, Albert Speer, former Nazi minister of armaments, was forced to admit that the Germans' costly, two-year effort to construct Atlantic defences had been 'brought to nothing because of an idea of simple genius'."