Ryan Giggs 'will make a top manager,' talent scout says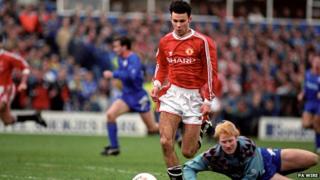 The man who discovered the schoolboy footballer Ryan Giggs predicts the retired striker will go on to be as great a manager as he was on the pitch.
Eric Harrison, 76, was Manchester United's head of youth development when he witnessed Giggs' skills on the ball.
He said: "I had never seen anything like it in my life."
The former assistant manager of the Wales football team said Giggs, now an assistant coach at his former club, will one day be a "top manager".
Harrison, who lives in Halifax, said the two have been in regular contact since Giggs began his move from the dressing room into management after temporarily taking over in the wake of David Moyes leaving the club.
He said: "I honestly thought he was going to get the job.
"He will be a top manager at some stage, probably not at United but somewhere else.
"We've been on the phone to each other. If he needed me I was there."
It is a new stage in a professional partnership stretching back to a few days before a 16-year-old Giggs was offered a professional contract with United, signing on his 17th birthday.
The then manager, still just plain Mr Alex Ferguson, sent Harrison to see Giggs playing for his Salford school.
He said: "Literally, after 10 -15 minutes, he took my breath away. I had never seen anything like it in my life.
"He had everything when he was running with the ball. It was brilliant to watch.
"His technical ability was very, very good. He really was the real deal."
The pair worked together as Giggs was promoted through the youth team to the first team.
He said: "He lived and breathed football. Ryan is one of those guys, he just can't get enough of it."
Harrison also worked with Giggs when he was assistant manager of the Wales football team under Mark Hughes.
Now, Harrison describes himself as semi-retired and still doing some football talent scouting, this time for Huddersfield Town.
Former national team captain Giggs moved from Cardiff at age 13 after his rugby league-playing father signed for Salford.
He became Wales' youngest player when he made his debut a few months after first turning out for Manchester United.
He went on to be one Wales' greatest ever players with 64 Welsh caps but one of the few disappointments of his career is that he never played in the finals of a championship tournament with his country.
Harrison said: "He missed quite a few games. He should have been a regular player for Wales, but he was getting little bits of injury. It would have made a big difference.
"He loved playing for Wales. He was very friendly with all the players. It was a strange set up but he loved it.
"He definitely considers himself Welsh. I might ask him now he's retired why he didn't play more games for Wales."