Drink-drive campaign backed by Josh Williams' family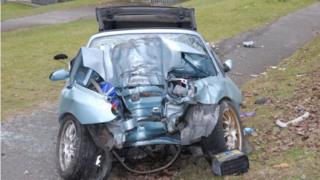 The family of a 20 year old drink-drive victim are supporting a summer crackdown by police across Wales.
Josh Williams from Merthyr Tydfil was killed in March 2013 while a passenger in a car driven by a motorist over the legal limit.
Throughout June, police will increase stop-checks to catch offenders and educate drivers as part of their campaign.
Mr Williams' mother, Julie, said: "We don't live now - we just exist."
Adam Pembridge pleaded guilty at Merthyr Crown Court last July to causing death while over the legal limit to drive and was jailed for five years.
Over 460 drink-drivers were caught during the last campaign at Christmas, a fall on the previous year's figure of 502.
Mr Williams' stepfather Neil Parry said: "I had the most horrific duty that any parent will ever have and that is to identify your child.
"No parent should ever have that question put to them. Every time I close my eyes I picture him in that hospital.
"A lot of people are of the mindset that 'it's only down the road' or 'it's only one drink', but that little momentary lapse of concentration and you hit a kerb and your car spins out of control, that's when you realise 'I wish I didn't have that drink'.
"Josh's death was totally preventable."
His brother Nathaniel Williams said: "My best friend is gone. I've been robbed of growing old with him.
"I wish people would just stop and think what they're doing."
South Wales Police assistant chief constable Julian Williams said: "There is a very simple solution to this - don't drink and drive.
"Every year police have to deliver the devastating news to families after someone has been killed on the road as a result of driving under the influence of drink or drugs.
"These deaths are avoidable if drivers simply make the decision not to drink and drive.
"Friends and family of drivers could also stop a loved one getting into a car drunk," he said.
"Do not be afraid to stop someone at a party or watching any of the World Cup matches getting into their car if they have been drinking and want to drive.
"This is especially apt considering a majority of the games are being held very late."