Met Office yellow warning of weekend storms in Wales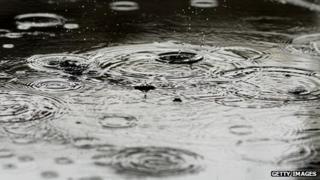 The Met Office has issued an advance warning of the risk of flooding on Saturday, with thunder and heavy rain forecast for Wales.
The yellow "be aware" warning has been issued across all counties due to the potential intensity of the storms.
"At this stage the location of the heaviest rainfall is uncertain," said a Met Office spokesman.
Warm, humid air is expected to move northwards late on Friday increasing the likelihood of heavy showers.
Forecasters say over the next few days they hope to be able to identify more clearly the areas most at risk.
Eddy Carroll, Met Office chief forecaster, said: "It is likely that many places within the current broad warning area will miss the worst of the storms; over the next few days it may be possible to focus on the areas most at risk."
The rainfall is not expected to last for a long period of time, but short, sharp downfalls could cause flooding. There is also a chance of hail.