£1m seized over enviro crime says Natural Resources Wales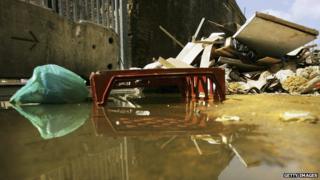 Nearly £1m has been confiscated from more than 20 criminals who have committed environmental offences in Wales in the last six years.
Natural Resources Wales (NRW) said the money was taken using the Proceeds of Crime Act.
NRW said another £1m was in the process of being recovered.
Among the money seized by the courts was £170,000 from an illegal scrap metal operator in Penllergaer, near Swansea.
Another businessman, who ran a skip hire firm in Denbigh, had to pay £35,000 after he was convicted in 2012 of illegally depositing waste and paid another £39,000 this year for committing further offences.
Deterrent
Richard Siddons, the NRW's head of technical services, said using the proceeds of crime laws to recover cash was "an important tool we have at our disposal".
"It deprives criminals of the wealth obtained from their illegal activities, helps prevent re-offending, disrupts criminality and reassures legitimate operators that strong action is being taken against their illegal counterparts," he added.
NRW said so far £800,000 had been recovered by the courts and paid to the Home Office.