World War One: Centenary Wood plan has to raise £500,000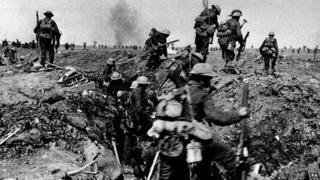 A campaign is being launched to raise £500,000 by the end of August for a wood in the Gwendraeth Valley in Carmarthenshire to mark the centenary of the outbreak of World War One.
Ninety thousand trees are planned for the 120-acre site near the village of Carway, near Llanelli.
A centenary wood marking the war is planned for each nation of the UK.
The Woodland Trust said it needed to raise £500,000 towards the £1.2m project.
It said the 90,000 trees would create a patchwork of woodland, while there would also be meadows of wildflowers, including the iconic Flanders poppy.
It is also planned to include a memorial area commemorating everyone who served in World War One.
Wales director of the Woodland Trust Jerry Langford said the trees "will stand tall in tribute to a generation of 100 years ago, providing a lasting tribute to all those involved in the First World War".
He said they hope to see thousands of people getting involved by planting or dedicating trees.
Mr Langford said: "This is one of the most ambitious and poignant projects the trust have ever undertaken and we wish to create a living tribute to everyone involved in the war that will stand for generations to come."
People living near the site are being invited to a launch meeting at 14:00 BST on 22 June at nearby Ffos Las Racecourse.
The Woodland Trust said Wales was one of the least wooded countries in Europe with only 15% woodland cover compared to 44% across the rest of Europe.
In addition to the 1,000 acres of woodland created at the four centenary woods, there will be more than 150,000 free trees available to Welsh schools, community groups and youth groups for planting, and the trust also hopes that landowners and communities will get create hundreds of new woods containing millions of trees.