Gordon Getty in Cardiff for premiere of his opera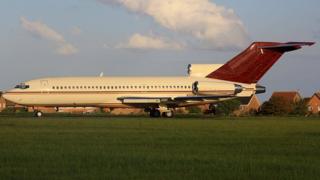 US billionaire Gordon Getty has jetted into Cardiff for the premiere of his opera Usher House.
The composer is said to have arrived in the city last week on board a golden private jet and has been attending rehearsals by Welsh National Opera.
The opera is being performed at the Wales Millennium Centre from Friday until Sunday.
It comes after a gift of more than £1.2m was made by the Getty family to Welsh National Opera (WNO) in 2012.
Based on a story by US author Edgar Allan Poe, WNO will perform Mr Getty's Usher House alongside Robert Orledge's completed version of Debussy's La Chute de la Maison Usher in a double bill.
Opera 'noir'
Part of WNO's British Firsts series, the double bill will be a world stage première of Usher House and a British première of La Chute de la Maison Usher.
The production, which will be directed by WNO chief executive and artistic director David Pountney, takes inspiration from the horror film genre.
Images filmed on location at the National Trust property Penrhyn Castle near Bangor, Gwynedd, will also be used in the production.
Mr Getty tells the Telegraph how his father always encouraged his musical ambitions, but most of his daily adult life was spent in the family oil business.
Mr Pountney said: "Gordon Getty's exceptionally subtle and atmospheric setting of the text derived from Poe brings a special quality of brooding menace to the story."
Meanwhile, Mr Getty's private jet remains parked at Cardiff Airport.