Mullanys' honeymoon murderer escapes prison on Antigua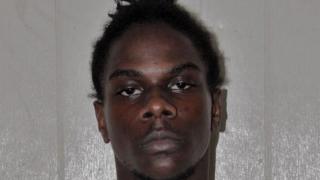 Police in Antigua are continuing to hunt for an escaped prisoner who was serving a life sentence for the brutal murder of a south Wales couple on their honeymoon.
Avie Howell scaled a 30ft (9m) wall with another inmate on fraud charges.
Howell and Kaniel Martin shot Ben and Catherine Mullany, from Pontardawe, in July 2008.
Mrs Mullany's mother Rachel Bowen, 64, said: "We have been made aware of the escape and are waiting to hear more."
Mrs Mullany, a doctor, died instantly, while her student physiotherapist husband died after he was flown home to Swansea on a life support machine.
As news of their escape broke on Friday, a family friend said they were "shocked" that Howell was able to escape, and there are fears he could leave the island.
The friend said: "We are extremely shocked and upset that this man has managed to escape and is on the run.
"We want to know how it could happen - he was jailed for life for what he did to Ben and Catherine. He should be under lock and key."
Alfred David, acting superintendent of the prison from which Howell escaped, said the two inmates were sharing a cell in a maximum security area and managed to cut ventilation bars to escape.
They were last seen during a patrol at 06:00 on Thursday before guards realised they were missing on a subsequent check shortly after 09:20, he said.
Mr David added: "The matter is still under investigation."
Sgt Raymond Finley said he believed that Howell, who is in his early 20s, was still on the island, and local police and defence forces were searching for him.
The Mullanys' MP Peter Hain said: "It is vital that Howell is hunted down urgently and brought back into jail.
"He took part in a gruesome murder of a lovely young couple who had so much to give to their local community and also had a zest for life.
"It is unthinkable that Howell is at large."
A Foreign Office spokesperson said: "We are looking into the reports and speaking to the local authorities."
Howell and Martin were convicted of killing Mr and Mrs Mullany in 2011.
The couple, who were both 31, were shot in the head at their luxury hotel on the island and their killers made off with their mobiles, a cheap digital camera and a handful of cash.
They had married just two weeks before at St John's The Evangelist Church in Cilybebyll.
Howell and Martin were also convicted of shooting an island shopkeeper, and handed a life term each.
In January 2013 Howell was given another four-year term for a burglary in which cash and mobiles were stolen at a home on Antigua just the month before he murdered Mr and Mrs Mullany.