Consultants in Welsh NHS in 'crisis' over pay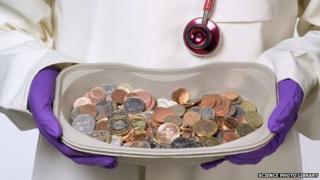 The warning from Welsh delegates at the BMA's annual conference is stark.
Consultants they claim feel "demoralised" and "under valued", struggling to deliver top notch care facing ever tighter budgets and ever rising demand.
They claim the "crisis" could deepen further still if their salaries are cut.
Recently a pay review body suggested NHS staff across the UK should get a 1% pay rise.
That proposal was implemented by the Scottish government but in England, ministers came to the conclusion that was unaffordable without job losses so decided not to award the pay rise to around 600,000 staff who already received progression in job pay increases.
'Untouchable'
Since then, the Welsh government has been considering its response.
What is clear, the Welsh government does not want spend proportionately more on NHS pay than the proposal for England.
According to the BMA, that means the total pay bill for doctors in the Welsh NHS looks set to be cut by £12m.
It argues consultants will have bear the brunt of that cut because pay for other grades of doctors is "untouchable" given it is negotiated across the UK.
However, pay for consultants is negotiated separately in Wales.
The upshot, according to the BMA, is that a consultant earning around £100,000 a year could face a pay cut of around £5,000 and salaries could be 5% less in other parts of the UK.
A quarter of all consultants working in Wales, according to the BMA, have emailed to express their anger.
They say they risk many choosing to leave the Welsh NHS.
Others they claim will be reluctant to come to work in Wales, which is already facing a shortage of doctors in some key specialties.
Stalemate
And not having enough staff, they insist, could have a serious impact on patient safety.
But the Welsh government is equally adamant the BMA has got its figures wrong.
It says there are no specific proposals to cut consultants pay.
And it says it bitterly regrets the BMA's decision not to come to the table to negotiate.
The BMA says it will not unless the government ditches its preconditions.
So there is a stalemate, but in deciding to speak out so plainly it is clear is the BMA wants to raise the temperature of this debate.