38 schools to shut for Newport Nato summit in September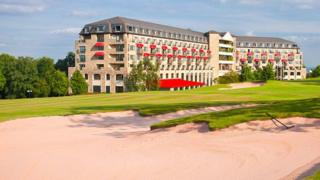 The majority of schools in Newport will be closed when the Nato summit takes place in the city.
So far, 38 have said they will shut on 4 and 5 September while six will have shorter days, three are open as normal and another 10 are still to decide.
The Celtic Manor is hosting the event which will bring together 60 world leaders and there will be 9,000 police on duty, costing an estimated £50m.
Protests are planned around the summit and there are also traffic concerns.
Newport has 48 primary schools and nine secondary schools.
Seven to 10 days of demonstrations are planned from various groups and some previous summits, most notably Strasbourg in 2009, have seen considerable disorder.
But Chris Armitt, assistant chief constable of Merseyside Police who is leading the security operation, said plans are in place.
"I'm very confident that we're taking every possible step to make sure we plan effectively," he said.
"We are doing lots and lots of exercising and scenario testing around everything we think is conceivable. That doesn't mean we won't see sporadic disorder.
"If we do, we'll deal with it quickly and I'm confident we won't see disorder on the scale that has taken place previously when it's taken place in Europe - in Strasbourg for example."
It will be the UK's first Nato summit since 1990.
The Nato meeting is expected to be attended by US President Barack Obama on his first visit to Wales.
People are being advised to avoid the stretch of the M4 near the Brynglas tunnels which the Celtic Manor overlooks, particularly on the afternoon of 4 September.
They have been described as one the UK's worst bottlenecks and incidents have often brought that stretch to a standstill.