Royal Mint annual results shows profits up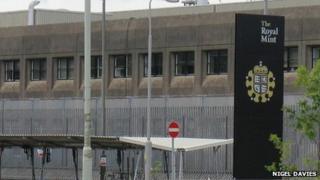 The Llantrisant-based Royal Mint's annual results show a boost in profits.
It had revenue of £314.9m and an operating profit of £6.7m in 2013/14, up from £254.6m and £1.3m in 2012/13.
Sales of circulating coins increased by just under a third to £101.2m with 1.997 billion coins supplied. More than two billion coins and blanks were made for 28 overseas countries.
Chief executive Adam Lawrence said the figures are a "great credit to every single employee of the Royal Mint."
The commemorative coin branch of the business also saw a sales increase; up 20% on the previous year to £213.7m.
These included the £5 crown to celebrate the birth of Prince George and the first UK £20 coin.