Call for better transport links across north Wales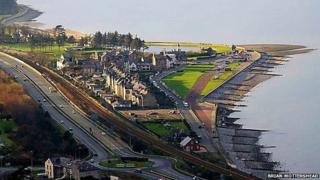 Calls have been made for more money to be spent on improving transport links across north Wales.
It follows last week's announcement of a £1bn investment in a relief road for the M4 in Newport.
Denbighshire council leader Hugh Evans said the authority recognised the need for the motorway work in south Wales.
But he wants to see improvements to the A55 through north Wales as well as better train links to Manchester, Liverpool and regional airports.
"We must not become the forgotten region in the north," he said.
"The A55 arterial route across the region is a vital road connection from east to west and there is a desperate need to invest in improving its condition.
"It is one of the main road networks connecting Wales with Ireland and is an important part of the infrastructure from an economic benefit perspective."
The A55 carries tens of thousands of vehicles a day between Anglesey and Chester along the north Wales coast before moving inland towards Cheshire and becoming the M53 between Ellesmere Port and Wirral.
Last year, the Welsh government ruled out widening the 81-mile (130km) A55 to ease traffic hold-ups because "severe constraints" would make it impossible or uneconomic.
But on Monday, a Welsh government spokesman said: "In the past, we were unable to progress the scheme because it was simply unaffordable - but thanks to the new borrowing powers we have secured, we can now take forward this and other vital schemes.
"We will not be using all of our early access borrowing powers to deliver the scheme and we will be continuing to use these powers, alongside innovative finance and direct capital funding streams, to benefit all parts of Wales."
He added that over £40m is being spent on improving the A55 and progress is being made with the Caernarfon to Bontnewydd bypass which is an investment of around £100m.
Mr Evans also said improvements were needed on the rail network following a study on modernising the railway, commissioned by the North Wales region, showed "significant benefits".
Earlier this month, £10m plans were announced for a direct train link between Wrexham and Liverpool to be restored after being lost in the 1970s.
The Welsh government spokesman said: "We are also involved in ongoing discussions with the UK government regarding the funding of rail electrification in Wales."