Scotland referendum: Firms invited to move HQs to Wales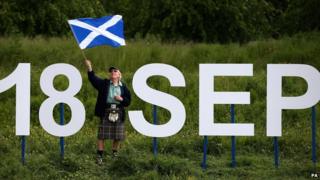 A business group is writing to leading Scottish companies urging them to move their companies to Cardiff if the country votes for independence.
Cardiff Business Council's move comes ahead of the vote on 18 September to decide if Scotland remains in the UK.
It is targeting companies in the financial services sector, including the Royal Bank of Scotland (RBS).
The letter emphasises Cardiff has an enterprise zone specifically for financial services companies.
The business council (CBC) wants companies like RBS, Scottish Widows, Standard Life and the Student Loans Company to move their headquarters to Wales in the event of a yes vote, BBC Wales has learned.
It comes after Standard Life, which employs 5,000 workers in Scotland, warned it may have to leave due to uncertainties including which currency would be used in an independent Scotland.