Libraries 'crucial' for local life, AM inquiry finds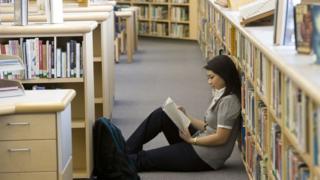 The crucial role public libraries play in community life has been discussed in a Welsh assembly review as dozens face closure under council cutbacks.
AMs said authorities should look at co-locating libraries with other services as a way of saving them.
It found visitor numbers have grown by 11% over 10 years, but several face closure as councils try to save money.
Library-goers said they promoted well-being, and provided internet access and a lifeline in many areas.
The inquiry found:
There were 13.25 million visits Visits to Welsh libraries in 2002-03
This had risen to 14.72 million in 2011-12
This compared to a 5% fall in England over the same period
The review found that councils should find ways of making money through libraries but added that the bulk of services should be free.
The inquiry by the communities, equality and local government committee was carried out to report the progress against the Welsh government's commitments to library services.