Pocket money in Wales falls 11%, Halifax survey finds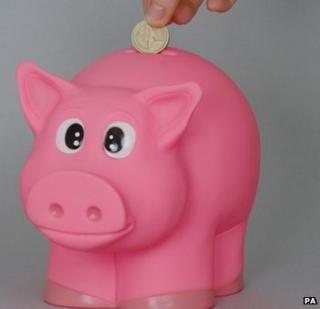 It is not just the grown ups who can feel the economic pinch, children can get hit in the piggy bank as well, according to research by the Halifax.
The bank's annual survey found youngsters in Wales have had an 11% drop in pocket money since last year.
And regional differences remain: the average for Welsh youngsters is £5.54 while across Britain it is £6.35.
The poll of 1,164 children found those in Wales have seen their income tumble from £6.15 in 2013.
The latest figures represent a long fall down the pocket money league for children in Wales.
In 2010, they topped the table at an average £7.77 per week, the most in Britain, even ahead of youngsters in London, who now receive the most pocket money, with an average of £8.26 a week.
Despite the average fall in income, 2.4% overall, the Halifax survey found almost half (48%) of those interviewed feel they receive the "right amount" of pocket money.
Two fifths (43%) think they should have more, and a quarter (25%) believe their friends get more money.
Head of Halifax savings Richard Fearon said: "Pocket money is a great tool to help young people learn the value of money, and to start the habits of saving and money management early on.
"Whilst the amount of pocket money children are getting has reduced slightly, it remains encouraging that many are satisfied with the money they receive, and that so many are choosing to save the money they are given."