Wales sees 'huge' drop in employment tribunal claims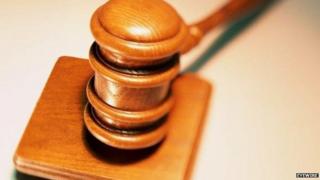 Wales has seen a "huge" drop in the number of people taking claims to employment tribunals after fees were introduced.
The number of claims being brought by people dropped by 67% in the first quarter of this year compared to 2013.
Fees of up to £1,200 were introduced by the UK government a year ago for individuals wanting to claim.
The Wales TUC said "workers are being priced out of justice".
But the Institute of Directors said it indicates that more dubious claims are not being brought.
The figures show 454 fewer individuals in Wales took cases to the tribunal in those three month periods a year apart.
The drop in Wales has been bigger than any other part of the UK.
Employment tribunals deal with disputes between workers and bosses, including unfair dismissal claims.
Wales TUC general secretary Martin Mansfield said: "The huge drop in cases taken certainly doesn't mean that bosses in Wales have suddenly become much nicer in the past year.
"It's simply because pursuing a complaint against a bad employer has become too expensive for many workers and that is just plain wrong.
"In the past there were no fees, and workers who felt they'd been wronged could have their case heard and the tribunal would either find in their favour or the employer's."
The Institute of Directors, Wales, said "access to justice for all" remains of "paramount importance".
However the organisation's Wales director, Robert Lloyd-Griffith said: "What it would indicate is that some of the more dubious claims that might have been brought in the past year are now not being brought.
"That's got to be a positive for business because of the cost and time it takes for such dubious claims to be defended which has a potential for a negative impact on business."
Neil Carberry, CBI director for employment and skills, said: "Firms have been frustrated for years by both delays in the system and false and misleading claims taking up time and resources.
"Early conciliation via Acas and the introduction of fees will help with this - but we still need to reform the system itself."
He said it was too early to assess the full impact of tribunal fees but it was essential that fees were set at the right level so access to justice was maintained.