Barry gardener's leg surgery after false widow spider bite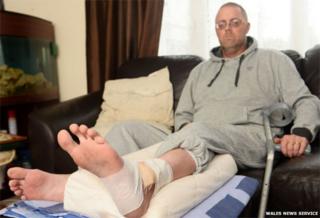 A gardener says he feared losing his leg after being bitten by a false widow spider hiding in a Vale of Glamorgan shed.
Jason Butler, 41, from Barry, found his ankle swelling up within hours and was prescribed antihistamines.
But after the pain and swelling got worse he went to hospital and doctors decided to operate.
"They told me that if I hadn't gone to hospital I could have been facing the amputation of my foot," he said.
Mr Butler came across five spiders as he moved a box a month ago and is sure they were false widows.
"One bit me on the ankle," he said. "I felt the pinch, grabbed it and pulled it off. At the time it wasn't painful, just a gentle sting."
But he became worried when his leg was swollen up to the knee and he was left in "excruciating pain".
He had two operations to drain the wound and is now on a six-month course of antibiotics.
The false widow spider
False widow spiders arrived in south-west England in the 1870s
It is Britain's most venomous spider, although there are no reported deaths from its bite in the UK
The spider has distinctive cream markings on its bulbous body and is brown with reddish-orangey legs
It eats insects, invertebrates and even other spiders
It prefers warm, dark places
The UK has about 650 species of spider and of these only about a dozen are capable of biting humans
There have been no reported deaths from its bite in the UK, they are not considered aggressive and generally symptoms are no worse than for a bee or wasp sting.