Police forces urged to improve crime recording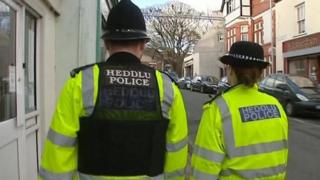 Some reports of violence and sexual assaults referred to a police force by outside agencies are not being recorded as crimes, a watchdog said.
Her Majesty's Inspectorate of Constabulary (HMIC) found North Wales Police recorded just one out of 16 incidents that should have been.
Gwent Police has also been told to tighten up its procedures in this area.
HMIC has said as many as one in five crimes may be going unrecorded across England and Wales.
Gwent and North Wales were among 13 forces checked by HMIC which issued its initial report in May.
The watchdog has now published individual reports for each of the forces.
Gwent and North Wales were both praised for their commitment to data integrity, but each had areas of concern highlighted.
Areas for improvement recommended to both forces include:
Ensuring reports from other agencies are properly recorded as crimes, especially where children and vulnerable adults are concerned
Make sure fixed penalties and other out-of-court solutions are only used when appropriate, that offenders understand the implications, and that the views of victims are taken into account
Ensure adequate training for all uniformed officers and other staff involved in crime recording
Audit systems to ensure correct and consistent approaches by all employees deciding what incidents are recorded as crimes
Gwent Police was also urged to immediately tackle a backlog of crime records needing validation which had built up due to the introduction of a new crime recording system.
Petrol station reports of drivers making off without payment were another area of concern, with one forecourt seeing only two out of 26 reports being recorded as crimes. Inspectors found such incidents were only recorded as crimes if the "circumstances were unequivocal", against national guidelines.
The Gwent force was also told to remind and reassure employees about the availability of its confidential reporting line for any concerns.
It was also urged to issue clear guidance to staff on its crime recording policy, as many were relying on advice from others.
Welcoming the report, Gwent Police and Crime Commissioner Ian Johnston said: "A significant amount of work has been undertaken by the force in respect of ethical crime recording which has been positively recognised in this inspection.
"I am reassured by this report and I believe the public can have full confidence in the strong direction the Force is taking where crime recording is concerned."
He added: "The force has been working hard to ensure crimes are recorded in accordance with the guidelines but there are areas we can still improve upon."
North Wales Police was also urged to review its procedures concerning incidents later discounted as not being crimes, to ensure consistency and proper oversight of decisions.
HMIC was concerned that some such incidents related to alleged rape, robbery and violence.
The force was also asked to clarify its process for dealing with reports of crimes that had taken place in other force areas, and how to transfer relevant evidence and documents.
North Wales Police deputy chief constable Gareth Pritchard said: "We work hard to ensure that our crime recording is done accurately in line with the national rules.
The results of the HMIC report shows that 94% of the crimes reviewed were done so correctly which is an excellent result particularly when compared to other forces in the UK.
"Crime recording is a very complex area in which North Wales Police have invested a great deal of resources. We have recording and auditing mechanisms in place and our staff have the knowledge, skills and support to accurately record crimes."