Ian Gough fined for assaulting model Sophia Cahill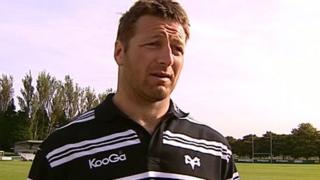 Welsh international rugby star Ian Gough has been told to pay £2,130 for attacking his ex-girlfriend, former Miss Wales Sophia Cahill.
Gough, 37, shoved Ms Cahill into the passenger door of his campervan outside her home in London, aggravating injuries she had from a car accident.
Gough, from Swansea, had denied assault at Croydon Magistrates' Court.
He was ordered to pay the money as fines and costs.