BBC Wales broadcasting pioneer Dewi Griffiths to retire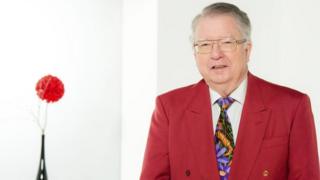 Broadcaster Dewi Griffiths is to retire after a BBC career spanning 60 years.
Mr Griffiths, 83, made his announcement on the BBC Radio Wales programme, A String of Pearls, which he has presented for the last 26 years.
He told listeners he had "a special announcement", before revealing he will soon be "riding off into the sunset for the last time" after a career as engineer, producer and presenter.
The programme on 28 September will be his final broadcast.
After national service with the RAF, Dewi Griffiths joined the BBC's Welsh Home Service in 1954 and initially worked as an engineer.
He went on to produce sport programmes and successfully established the BBC Wales Sport department with the former Welsh rugby international Cliff Morgan.
In 1967 he produced the first regular colour television programme when the new technology was used to broadcast the Wimbledon Tennis Championships.
He directed the cameras at every rugby match at Cardiff Arms Park and the National Stadium for 29 years, and worked on television outside broadcasts around the world covering events including the Olympics and the football World Cup.
Since leaving the sport department he has presented A String of Pearls, which has consistently been among the most popular programmes on BBC Radio Wales since 1988.
It presents a mix of music from the big band era and the golden age of Hollywood musicals, with regular requests from his loyal audience.
'Golden-days postbag'
His final programme will be broadcast on Sunday 28 September, while Roy Noble's weekly show will be extended to replace A String of Pearls from October.
Editor of BBC Radio Wales, Steve Austins, said: "After 60 years of working for the BBC, Dewi decided that now was the right time for him to step off the stage.
"His dedication to the programme and his listeners over the years has been exemplary and it's been an honour to work with him.
"Dewi leaves big shoes to fill but I'm convinced there is nobody better than Roy Noble to take up the mantle. Roy's show will include music familiar to String of Pearls listeners and we'll keep Dewi's 'golden-days postbag' open for business."
Roy Noble will move an hour earlier to 9.30am from 12 October, and will include some of the music that has been a feature of Dewi Griffiths' broadcasts.
Roy Noble said: "The end of an era, with the String Of Pearls duly put in the safe by Dewi.
"He and his programme have been legendary and what a responsibility and privilege it is to be handed the key to seek out the finest jewels."