Medal to mark Wales successes at Commonwealth Games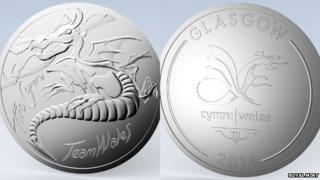 A commemorative medal struck by the Royal Mint is to be presented to Welsh athletes who took part in the Commonwealth Games in Glasgow.
Members of Team Wales will receive the medals at a public homecoming event at the Senedd on Wednesday afternoon.
They include six-times medallist, rhythmic gymnast Frankie Jones, and judo gold medal winner Natalie Powell.
First Minister Carwyn Jones has urged people to support the event.
The medal features a dragon and the words Team Wales/Tim Cymru on one side, and Glasgow 2014 and the Team Wales Commonwealth Games logo on the other.
Competitors will take part in a parade and receive their medals on the steps of the Senedd.
Entertainment is being laid on for the public ahead of the parade.
The First Minister said: "I'm sure many people will want to come along to stand outside the Senedd to welcome back the team from the Commonweatlh Games.
"It was fantastic to go to the games and see Welsh athletes do so well.
"We have to remember that for a small nation we do exceptionally well at the Commonwealth Games and that's a tribute to the dedication of the athletes involved."
The event will take place at 17:00 BST.
Mr Jones, presiding officer Dame Rosemary Butler and Shane Bissett from the Royal Mint will present the medals.