Glastir farm subsidy scheme has 'significant flaws'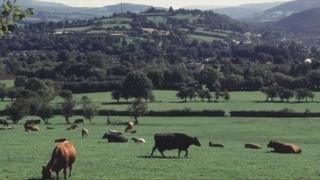 A scheme which pays farmers and landowners to maintain the countryside has "significant flaws", according to the Wales Audit Office.
A report on Glastir said some targets for the number of people signing up and land area covered were "unrealistic".
With a target of spending £119m on subsidies by the end of 2015, only £22m had been handed out by the end of 2013.
The Welsh government said it accepted the need to set measures of success and to boost online applications.
Glastir replaced five former land management projects which saw farmers and landowners paid subsidies in exchange for protecting wildlife habitats and the environment.
But the report found that many were still claiming grants from older schemes which had not yet been wound up.
Recommendations for improvement
The Auditor General has made six recommendations to the Welsh government to try and improve the take-up and results of Glastir:
Ensure landowners commit to changing land management practices in return for funding
Identify and intervene at farms which are polluting the wider water supply
Set targets which are challenging but achievable, to encourage more landowners to apply
Clarify the expectations of Glastir, and find a way of measuring the degree of success
Routinely monitor the administration costs of the scheme
Remove any remaining barriers to online-only applications
Auditor General Huw Vaughan Thomas said Glastir reflected "lessons learned" from previous schemes but could be improved further.
"Take up has been much lower than the Welsh government anticipated and measures to help evaluate the overall success of the scheme have not yet been developed," he said.
A Welsh government spokesperson said: "We broadly welcome the report which has found that Glastir has improved upon previous agri-environment schemes and that Glastir payments are more targeted and effective in delivering environmental benefits.
"We accept many of the observations in the report; particularly the recommendation to set measurable targets for the scheme and to review the success of the transition to online applications."