Ex-Wales and Spurs star Simon Davies joins village side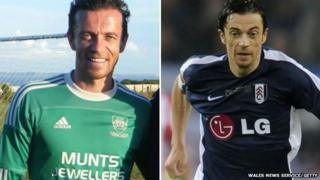 A former Wales football star who once played for Spurs and Everton has agreed to go back to his roots to play for a village team - and will pay for the privilege.
Simon Davies, 34, could once command £30,000 a week but will now have to pay £3 "subs" like any other player at Solva FC in Pembrokeshire.
Davies has agreed to turn out for the club when he returns to visit family.
The midfielder won 58 caps for Wales.
Davies, who also played for Fulham and Peterborough in a 15-year career, first turned out for the Pembrokeshire League Division Two side in a friendly last summer.
He started as a junior with Solva AFC before reaching the heights of more than 200 Premier League appearances.
"I'm looking forward to playing a few games with my brother and the friends I started playing with all those years ago," he said.
Younger brother Chris, who is captain and goalkeeper, said there was no match pencilled in for his debut.
"When he comes back to visit family he'll play. He lives in London so it's a long way back but he'll turn out when he's next on a visit."
Soon he could be facing United and Villa, but the Milford and Prendergast varieties.
Tracey Cole, club secretary at Solva AFC, said: "I've already told him I'm not paying him - he's going to have to pay subs like everyone else.
"He seems keen and hopefully he'll be available for a few matches."
Solva AFC are currently second in their division and will be looking to extend their unbeaten run against St Clears on Saturday.